Our mission is to enhance the beauty and value of every client's property by exceeding their expectations every step of the way. To assist our clients in designing, creating, and maintaining a unique outdoor environment that enhances the work space.
At J.B. Enterprises, we commit to making your life easier by giving you more for less — that's how we define value. Our experienced team has created a proven service model that allows us to guarantee every service we provide. Plus, we do it with competitive pricing. This combination of service levels, accountability and integrity means that you can trust your property maintenance needs to us.
our customers are at the centre of all of our efforts
People, service, quality and profit are the four ingredients that form the foundation of our business and provide the basis for our daily operations. We strive to keep each element in perfect balance, and our company goals encompass each aspect
Our people are our most vital asset and we strive to retain and develop them to their fullest potential.
Proactive, friendly and results-oriented customer service serve as the cornerstone to how we build and manage long-term relationships with our customers.
We don't simply rest on our reputation of providing high-quality work and strong attention to detail; instead, we focus on implementing continuous improvements.
Healthy company growth is vital to our business so that we can continually expand and develop initiatives that will benefit our valued customers.
In 2008 at the age of 12, and with some of his dad's old equipment, Jacob Booth started J.B. Lawn Care & Snow Plowing. After the first summer, Jacob saved enough to buy a brand new John Deere riding lawn mower, and with a homemade utility trailer built by his father, went around his neighbourhood in East London cutting grass.
Building his business by word of mouth, and finally having a licence and a truck he rented from his dad to use, he was able to travel throughout the city building clientele. With several new customers, Jacob expanded services & added new equipment, still while working through high school, maintaining honors and eventually assisting in covering the expenses of college.
In 2014 after graduating from the business program from Fanshawe, Jacob was able to focus on what he loved doing most – helping others. With steady expansion and the addition of more customers and more equipment to his growing fleet, in 2015 J.B Lawn Care & Snow Plowing became J.B. Enterprises.  7 years later J.B. Enterprises is proud to say they still service their very first handful of customers & close to 75 other commercial & residential customers.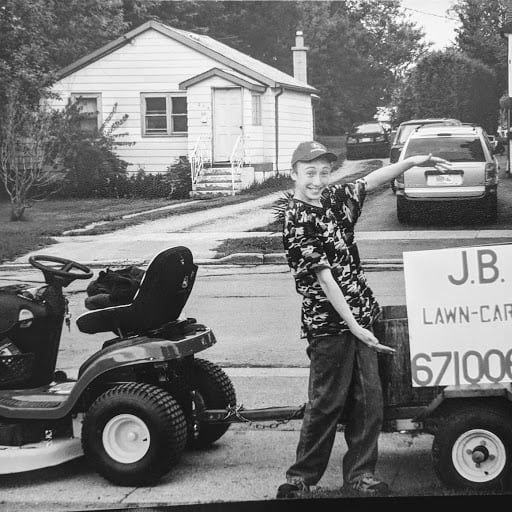 We strive to provide the best service possible with every contact!